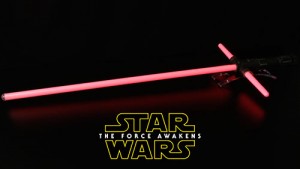 Type: Toy
Manufacturer: Hasbro
Release date: 09.04.15
The deluxe Force FX lightsabers have long been associated with high-quality items for the "serious fan," and the controversial lightsaber introduced in The Force Awakens won't be spared the lovingly detailed treatment.
The Star Wars Black Series Force FX Kylo Ren lightsaber (that's quite the name) contains three LED blades, a real metal hilt, and an accelerometer to reproduce a wide swath of sound effects, depending upon how quickly the user swings it about (which isn't to mention the other sound effects activated when either powering the blade up or down and hitting it against objects).
What has really set this particular piece of Episode VII merchandise apart from all the others actually has less to do with its "ultra-premium" nature and more to do with the insane amount of secrecy surrounding the film: the lightsaber's telltale hum was divulged by Hasbro's replica, revealing quite a different tenor from the other sabers used across all the other movies and television series. It's only further added to the mystique of the still-enigmatic Knight of Ren.